Get your hands on the iconic 2017 Ford Mustang right here in Steubenville, OH at Team Ford Lincoln
There are muscle cars, and then there's the 2017 Ford Mustang. The latest in a long-running line of driver's cars, the 2017 Ford Mustang reasserts its dominance in its segment year after year. Here at Team Ford Lincoln in Steubenville, OH, the Ford Mustang has always been a centerpiece of our showroom, having drawn the eye of drivers from Burgettstown, PA to Colliers, WV and all points in between. Of course, with a car as powerful and dynamic as the 2017 Ford Mustang, its place is not on the showroom floor, but on the open road. And if you'd like to be the one behind the wheel of this paragon of the muscle car segment, we'd love to be the ones to help you get there here at Team Ford Lincoln.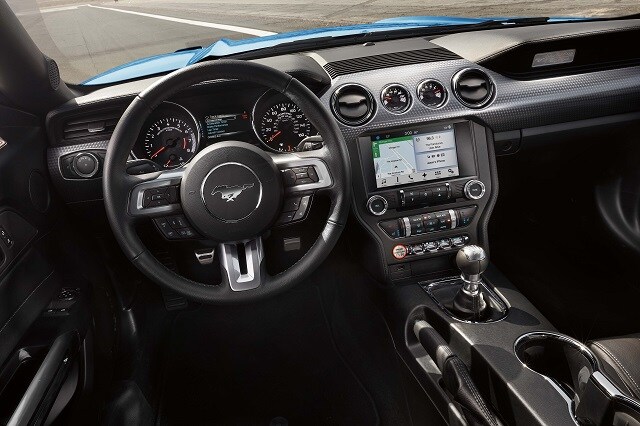 See how the 2017 Ford Mustang stands out from crowd!
Naturally, the defining feature of any muscle car is unrelenting power, and that's something the 2017 Ford Mustang has in spades. Want to take to highway on-ramps, and maybe just a few of the deserted back roads of nearby New Cumberland, WV and Toronto, OH with gusto? With its range of available engine options, the 2017 Ford Mustang offers up to 526 horsepower on demand, giving you plenty of opportunity to play when you want to.

However, raw horsepower is far from all that the 2017 Ford Mustang has to offer. In fact, this muscle car boasts a surprisingly refined ride quality to boot thanks to its integral link independent rear suspension and Selectable Power-Assisted Steering, making it plenty comfortable for those times when you're cruising around nearby Weirton, WV. In addition, you'll find the cabin is well-appointed with sport-centric design elements and high quality materials, making the 2017 Ford Mustang just as impressive inside as it is out!

Find out if the 2017 Ford Mustang is right for you with a test drive at our Steubenville, OH Ford dealership
Just as its many predecessors, the 2017 Ford Mustang is a car that demands to be driven. So, if you find that your right foot is positively itching for the accelerator, we'd love to have you come in for a test drive here at Team Ford Lincoln. Our dealership is conveniently located close by to the communities of Toronto, OH, Burgettstown, PA, Colliers, New Cumberland, and Weirton, WV, and we're always eager to greet prospective customers and show them around our extensive selection of new Ford models. So, don't hesitate to stop in to test drive the 2017 Ford Mustang today!